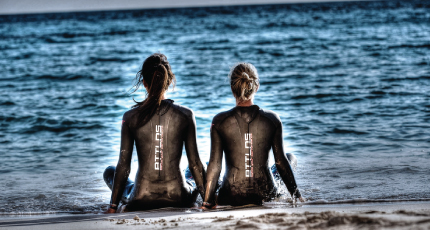 Triathlon wetsuits women
As a triathlete you can't perform in the openwaters without a BTTLNS triathlon wetsuit. The benefits you get from a triathlon wetsuit are just unbelievable; you will only understand the advantages from a BTTLNS wetsuit when you feel, test and wear it by yourself.

Extra buoyancy will ensure a perfect swim position in the water to improve your hydrodynamics which directly lead to a faster swimming time! Beside this, a wetsuit will protect your body against cold water to let you swim in the openwater during the early spring till the last atumn days.
Generally the insulation is created by the thin water layer between your body and the wetsuit. Important is the fit on your body to control the amount of water and to prevent cold waterflow inside your BTTLNS triathlon wetsuit.

Determining the right size
The best way to choose the right size is to visit our BTTLNS shop to try all different kind of BTTLNS triathlon wetsuits in all different sizes. However, if this isn't a option for you, try to stay close to our BTTLNS sizing charts to consider the right wetsuit size. Facing any problems, questions or do you require personally advice? Immediately use our contact page and let our BTTLNS customer service team contact you!