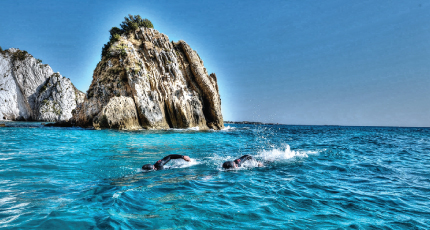 Triathlon wetsuits men
When talking about Triathlon wetsuits we generally narrow down to neoprene suits with an inner layer. Combining these two materials with different structures, ticknesses and quality ranges lead to different kind of neoprene panels with each his own individual characteristics in the water. Our BTTLNS developing team has the right knowledge of these materials to develop the most fastest, durable and comfortable wetsuits ever made!

+ Gift
11% discount
BTTLNS Gods wetsuit Rapture 1.0
(0118007-034)
The BTTLNS Gods wetsuit Rapture 1.0 is the ultimate choice as entry-level wetsuit for starting triathletes or for those who are looking for the best price-quality wetsuit available. Based on the material characteristics, structure and developments, the Rapture exceeds its competition by far! Made entirely from Yamamoto neoprene, the world leader in neoprene, which guarantees excellent flexibility, freedom of movement and comfort. Arms, shoulders and armpits made of 2mm for perfect flexibility and 5mm NanoAerodome on the front and side panels for a sublime buoyancy.
Product temporarily not available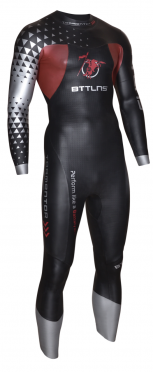 + Gift
Sale
BTTLNS Gods wetsuit Tormentor 1.0
(0118005-022)
The BTTLNS Gods wetsuit Tormentor 1.0 is praised by its sublime freedom of movement around the shoulders and great buoyancy. Minimal water resistance due to Nano SCS coating technology and Pro-AeroFlow grippers for maximum transfer of power, resulting in your personal record time! "One piece shoulder panel design" made of 1.5mm Yamamoto #40 cell SCS neoprene for an amazing freedom of movement and maximum comfort. Strategic placement of buoyancy by a NanoAerodrome panel on the front of chest to knees so your water position is horizontal.
Your discount €135,05 (Incl. VAT)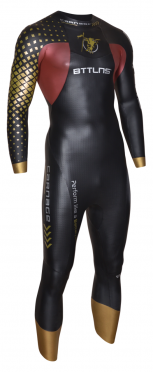 + Gift
Sale
BTTLNS Gods wetsuit Carnage 1.0
(0118004-088)
A distinctive wetsuit due to a combination of maximum flexibility and super balanced buoyancy, the BTTLNS Gods wetsuit Carnage 1.0! Developed with a NanoAerodome technology that ensures 30% more buoyancy, compared to conventional neoprene. Made of the most advanced neoprene material on the market on the shoulders and arms; Yamamoto #40 cell SCS neoprene for incredible flexibility and comfort. Completed with 2mm Pro-AeroFlow grippers, U-design silica gel holders and a Pro-YKK zipper, so you are not only wearing the fastest but also the most durable wetsuit!
Your discount €175,05 (Incl. VAT)
During our development process we take into account the next seven major issues: buoyancy, flexibility, swimming form and technique, hydrodynamica, warmth, transition and a comfortable fit to let you perform on a triathlon like a real battalyan!

Determining the right wetsuit
The best way to choose the right wetsuit in combination with the right size is to visit our BTTLNS shop to try all different kind of BTTLNS triathlon wetsuits. However, if this isn't a option for you, try to stay close to our BTTLNS sizing charts to consider the right wetsuit size. Furthermore, read our product explanation and specs carefully. Facing any problems, questions or do you require personally advice? Immediately use our contact page and let our BTTLNS customer service team contact you!