Wetsuit Test Days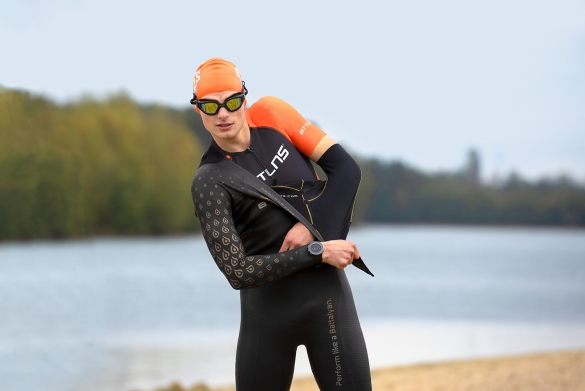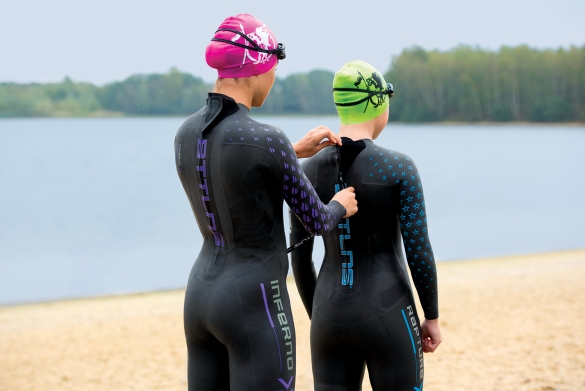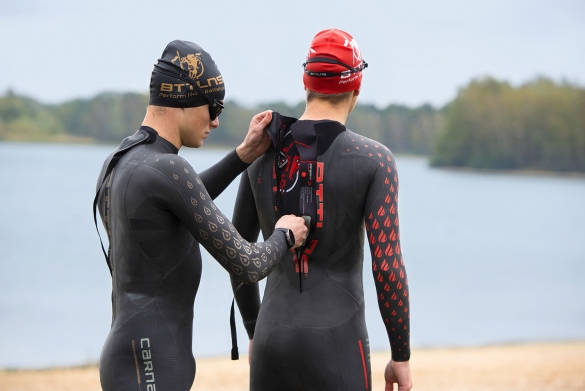 Are you looking for a new wetsuit, but you don't know - yet - which model is the best option for you? Or do you have your eye on a wetsuit, but would like to test it before buying it? Then it's time to come to one of our wetsuit test days! The most extensive test days with the most brand choice in the Benelux! And of course we're going to organize some test days this year as well!
The wetsuit test days are always fun, organized on fantastic locations and are the moment to choose - with our experts - the best wetsuit to get ready for the new 2023 season!


What are wetsuit test days?
Since 2014 BTTLNS has organized wetsuit test days in collaboration with Triathlon24. These are the most fun and informative days to test a wetsuit! Our experts will provide you with advice on which wetsuit best suits your needs. And most important: the unique possibility to test the wetsuit directly in the water and compare it with other models of wetsuits. All this on fantastic locations with swimming water in The Netherlands and Belgium. The starting point is that everyone gets plenty of time to test the wetsuits in the water. You get the opportunity to test the wetsuit on buoyancy, flexibility, water flow and all the other important characteristics a good wetsuit has to meet.
What can I expect during a wetsuit test day?
During a wetsuit test day we are represented by a number of our experts. Together with one of our experts we'll look at your needs, and which wetsuit suits you best. For example; finding the right size/fit, what are you going to use the wetsuit for, what is the best buoyancy for you. With all this information you can compare different wetsuits to finally come to a perfect match.
Of course we will be attending with our full range of wetsuits. From long sleeve, breaststroke (open water), thermal and sleeveless wetsuits for the beginner and recreational swimmers, to the most advanced wetsuits for the professional triathlete. We also have a large part of our accessories with us, such as - thermal - neoprene accessories, swimming buoys and swimming goggles. You can also test these accessories directly in the water.

Can I take my purchase with me immediately?
Because we cannot estimate which wetsuits will be in demand, we do not have a full stock with us. You place your order with one of our experts on the wetsuit test day and your order will be shipped to your home within a few days free of charge. (Pick up in one of our stores is of course also possible).
Where do we organize wetsuit test days?
Every year we organize several wetsuit test days in different great locations in The Netherlands and Belgium. For example; an outdoor swimming pool, natural water or an indoor swimming pool.
When are the wetsuit test days?
Every year we organize several test days in the period before the start of the triathlon season. Below you can find an overview of all the wetsuit test days, locations and times.
Is a wetsuit test day free of charge?
Participation in one or more of our wetsuit test days is free of charge and without obligation! You have to take into account that a possible guest will pay the regular entrance fee of our locations.
How can I register for the 2023 events?
Registration is mandatory, sending us an email to info@bttlns.com with the subject 'Wetsuit Test Day'. In this e-mail we would like to receive your name, address and which location and test day you want to attend. You will then receive a confirmation of your registration and a week before the event you will receive extra information about the wetsuit test day you signed up for.


We are looking forward seeing you on one of our wetsuit test days!
---
This is the calendar of test days in 2023: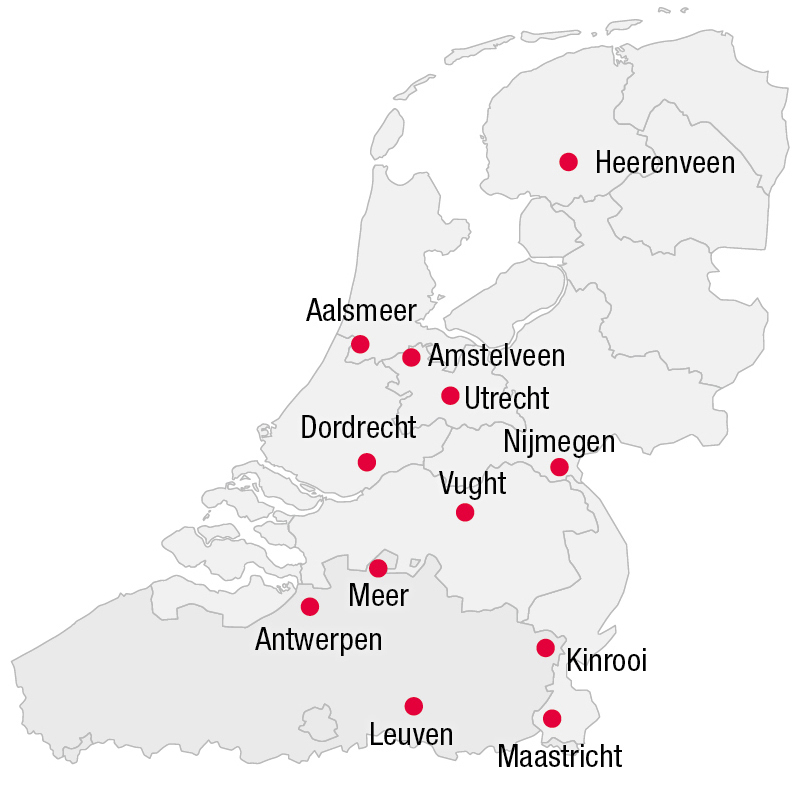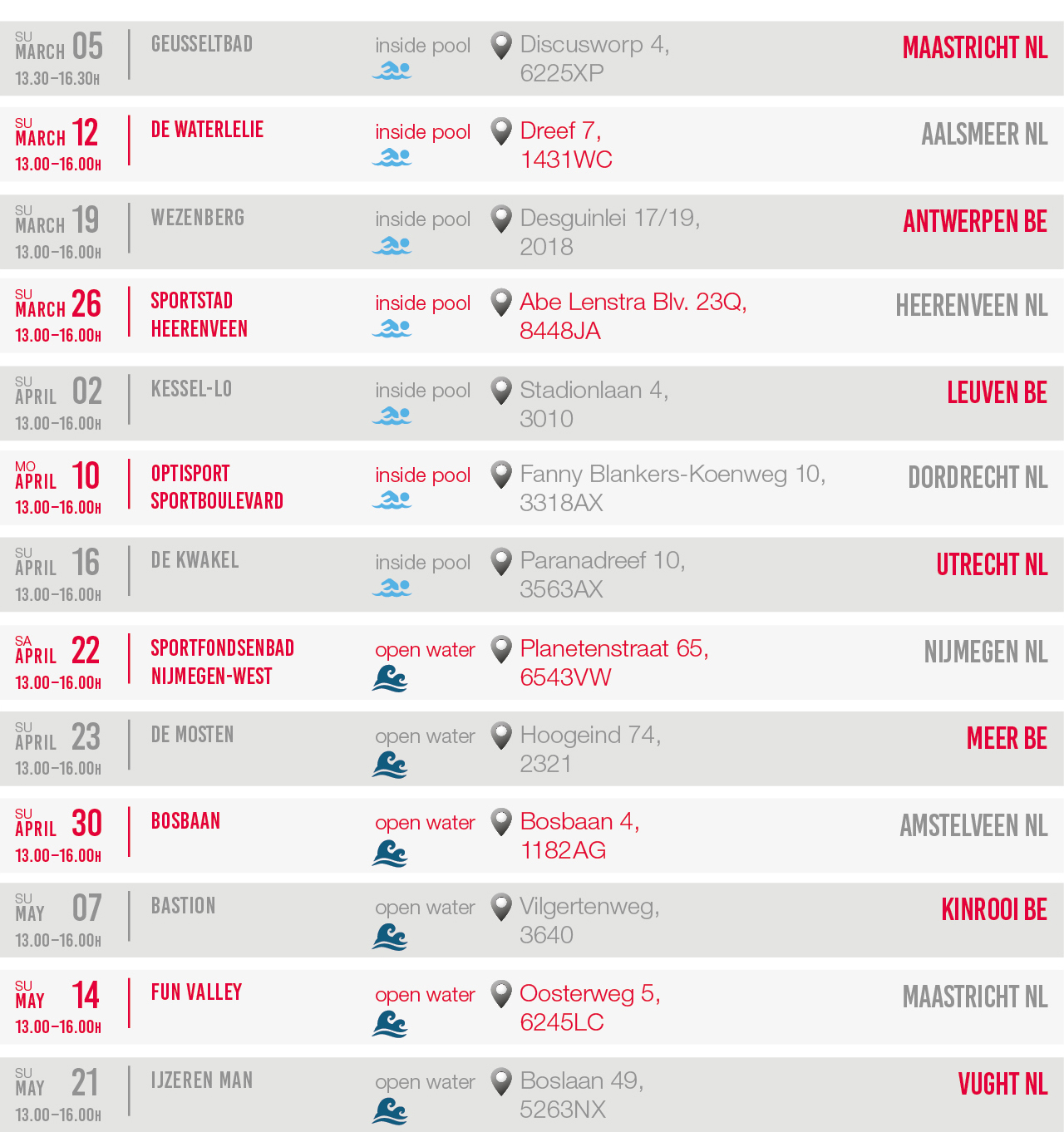 ---
Impression: