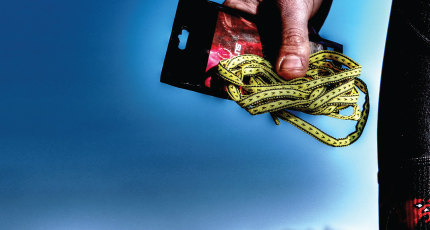 Running
As the final discipline in triathlon, you have to run. Depending on the distance, you'll be flying in or looking for the ideal rhythm to keep going for as long as possible.
Your heartbeat is already heightened and your legs are already tired. Still, you want to get your running shoes on your feet as quickly as possible. You don't want to think about your number while running and you don't want any abrasive clothing or accessories. You just want to run!
Quick Laces:
Replace your classic laces with quick laces. With quick laces you can immediately step into your running shoes and tighten them correctly. No loss of time by tying a knot in your laces, you can start your last part right away.
You don't have to change the laces after a race, they can be used at all times.
Number belt:
You don't have to take your number off and re-pin it on the chest when you start running, just turn your number tape forward and you're all set to run to the finish line as fast as you can.
Also your trisuits and other sports clothes are spared holes, you just attach your starting number to your number belt and that's it.
Chipband:
Whether you're going for the win or a personal record and just finish, analyzing your results afterwards is always fun. Your time is recorded using a timing chip. You take the timing chip with you on a band around your left ankle to register your intervals and end time.
If you don't want this to be an irritation during your race, it's best to put on a good chipband, to avoid friction and irritation.