Triathlon wetsuits kids
When talking about Triathlon wetsuits we generally narrow down to neoprene suits with an inner layer. Combining these two materials with different structures, ticknesses and quality ranges lead to different kind of neoprene panels with each his own individual characteristics in the water. Our BTTLNS developing team has the right knowledge of these materials to develop the most fastest, durable and comfortable wetsuits ever made!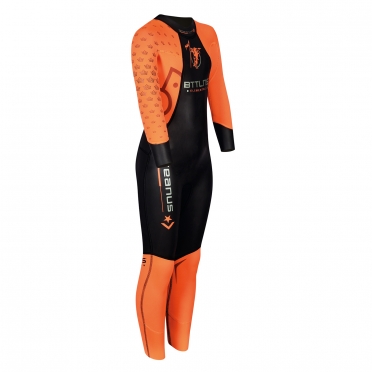 + Gift
52% discount
BTTLNS Little gods wetsuit Oceanus 1.0
(0120020-122)
The BTTLNS Little gods wetsuit Oceanus 1.0 is the ideal wetsuit for kids that want to start with openwater swimming. Because the wetsuit features the striking neon orange color, you are always highly visible in the water. The wetsuit is equipped with the right neoprene materials to protect you, but also makes sure you can't break it! The Oceanus is the perfect ratio between price and quality because it responds to the wishes of the target group and is made of the right materials.
Your discount €100,- (Incl. VAT)
During our development process we take into account the next seven major issues: buoyancy, flexibility, swimming form and technique, hydrodynamica, warmth, transition and a comfortable fit to let you perform on a triathlon like a real battalyan!

Determining the right wetsuit
The best way to choose the right wetsuit in combination with the right size is to visit our BTTLNS shop to try all different kind of BTTLNS triathlon wetsuits. However, if this isn't a option for you, try to stay close to our BTTLNS sizing charts to consider the right wetsuit size. Furthermore, read our product explanation and specs carefully. Facing any problems, questions or do you require personally advice? Immediately use our contact page and let our BTTLNS customer service team contact you!