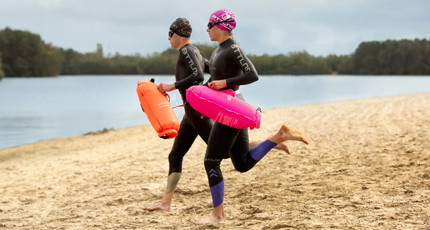 Safety buoy dry bag
To swim safely in the open water, it is important that you think about your safety. If you do not have the opportunity to swim with someone or in a group, we recommend at all times the use of a SaferSwimmer. You will be visible for other swimmers, who are also on or in the water at the same time. In addition, a SaferSwimmer has more functions to offer.
What is a SaferSwimmer?
A SaferSwimmer is a floating buoy that you can tie around your waist with a cord. You drag the buoy along with you over the water while swimming. This ensures that you are highly visible during open water swimming. Besides the main functionality - safety - it is also possible to carry your belongings dry in the buoy during swimming. A SaferSwimmer is also known as a safety buoy, buoy, swimming buoy or dry bag.
Why the use of a SaferSwimmer?
Many swimmers and triathletes like to train outside, this is not always possible to do together or in a group. If you go swimming alone then your safety is the most important thing.
- The main function of the buoy is that you are visible. Because the buoy has a bright color, you are already visible from a distance to fellow swimmers. (Because you are more visible with the buoy, the chance that you will be passed over is smaller.
- A second important function that has to do with safety is in a situation where you get cramp, are tired or just can't swim any further. Then you can hang on to the buoy to regain your breath or to rest for a while. Then you can continue swimming or wait for help from the shore, which sees exactly where you are because of the bright color of the buoy.
- The last function of the buoy is especially practical. Because the buoy has a waterproof compartment, you can store your most valuable belongings. You can then take these items with you in the buoy while swimming. You will not experience any inconvenience or have the feeling that you are pulling a heavy object with you while swimming.